Meet Graham Bloxham, Proprietor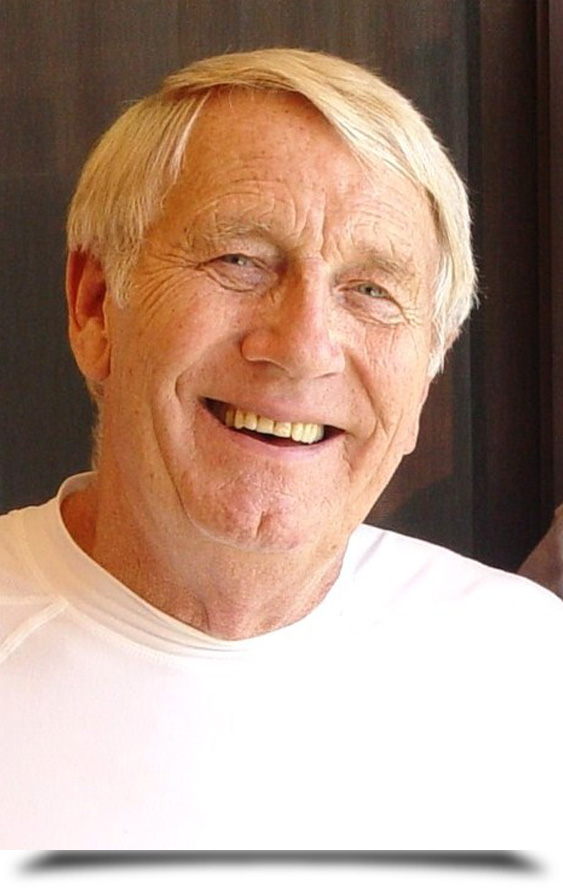 Graham emigrated to American in 1972 after selling his 1954 Bentley Mark VI to a Los Angeles attorney. When the car was off-loaded from the boat after an extended dock strike, it would not start. Beverly Hills Rolls Royce and Bentley wanted five thousand dollars to pick up the car from the dock and get it to run. The new owner, Ron, decided it was cheaper to fly Graham to America to fix the car. It was.
Graham's first trip up the 405 freeway he famously noted that "there were more British cars here in Los Angeles than in the whole
of England."
Ron helped Graham get his green card and his first job was at Holiday Motors, Van Nuys, CA.
It was there he would meet Rudy Lomeli who would 14 years later, in 1986, begin working for him until his retirement.
Graham moved around a bit having worked for Reseda Imports, Boyd Peterson, Auto Trends and Hornburg Jaguar. British Body Craft owner Pat Patrick heard of his reputation and asked Graham to help get him out of a jam by fixing a Lotus Elan that had been completely stripped and parts scattered about by a disgruntled mechanic.
Graham agreed to help Pat in the evening and on weekends. He had the car back together in no time. Pat offered him more money than he was making to stay on, and Graham agreed. Pat ultimately retired and gave the entire business to Graham who renamed it British Body Craft and BBC Service located on Yucca at Highland in Hollywood.
Graham ultimately sold that business. He wanted to scale down and move to the San
Fernando Valley.
He thought he could go back to having a one man business with just two bays to simplify his life, but his reputation wouldn't let that happen no matter how hard he tried.
In 1982 Natalie brought her 1977 Jaguar XJ12L to him with only twenty two thousand miles on it….mostly done on a tow truck. He fixed her cooling system leak and her A/C system which had never worked since new and the rest is history.
Natalie gave up all her career work and began working for Graham on January 10, 1984 and they were married in 1989.
They remained in the little two bay shop on Burbank Blvd. for fourteen more years where Graham also taught fuel injection systems for Allan Test Products. His classes were very popular, and it was there in 1986 that Graham met Walter Bacall who would become his service manager in 2003.
Graham moved his business to a four bay shop on Fulton Avenue in 1995 but, alas, it was too small. He moved again in February of 2001 to his present location and has enjoyed cultivating customers and friends alike since that time.
Graham and Natalie have been together since their first date in 1982. They raised 3 daughters and 1 son and have 6 granddaughters, 2 grandsons and one cat.
Natalie Bloxham, Business Manager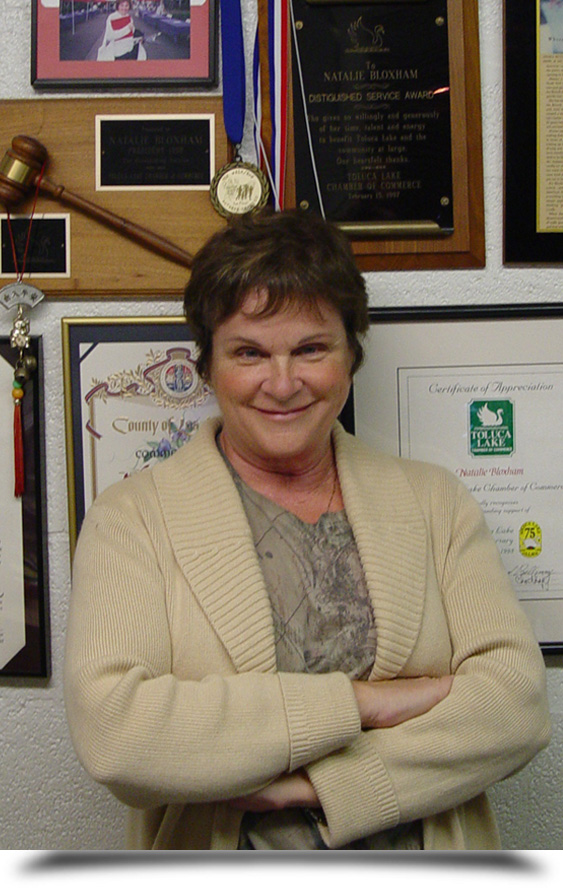 "My most favorite car ever is the Jaguar."
So says Natalie, who has driven nothing but a Jag since 1977. When her father told her to get rid of her 12 cylinder Jaguar that kept breaking down, her answer was to find the best Jag mechanic around and marry him.
Natalie began working with Graham in their business
Just Jaguar aka Jags Only on January 10, 1984. She laughs when she says that but believes that date to be just the beginning of the happiest days of her life.
Some Other Highlights of Her Life Include:
Co-Founder - Toluca Lake Friends of the Exceptional Children's Foundation – 1977-1980
Finance Chairman - Beautiful People Awards -- 1987-1995
President - Toluca Lake Garden Club —1989-1991
Treasurer - Toluca Lake Garden Club —1991-1997
Distinguished Service Award 1997-Toluca Lake Chamber Of Commerce
President – Toluca Lake Chamber Of Commerce 1998
Producer – "Friends Making Friends" 1998, A Two Hour Parade Saluting The 75th Anniversary Of Toluca Lake With Grand Marshals, Bob And Dolores Hope
Creator – "Beautification of Riverside Drive" project which yielded new bus benches, planters and Toluca Lake Gateway Monument located at Ledge Avenue and Riverside Drive in Toluca
Lake, California.
Producer of "Running Scared at CBS" a 5K/10K run at CBS Studio Center – 2000-2003
Vice President of Education – Rising Star Toastmasters Club #1653-July 2001-June 2003 and July 2007-June 2008
President – Rising Star Toastmasters Club #1653-July 2003-June 2004 and July 2008-June 2009
President – Villa Cabrini Academy Alumnae and Friends from June 2006-December 2008
Producer of an historical exhibit entitled "Maria Francesca Cabrini: A Woman Before Her Time", on permanent display at the Los Angeles Times Library Annex, Woodbury University, Burbank, California
Her efforts combined with community support won Toluca Lake a resolution from the California Legislature Assembly. Members Resolution #1260, signed by the Honorable Scott Wildman for "the outstanding contributions it has made to the history of California."
Natalie and her husband, Graham, have raised four children and have eight fabulous grandchildren. Besides her love of Jaguars, Natalie is an avid rose collector and photographer. Her personal garden photos may be viewed at www.helpmefind.com
Services
Extensive experience leads to consistent excellence. Find out what we can do for your Jaguar or other British vehicle.