Just Jaguar aka Jags Only…Grace…Space…Pace
Just Jaguar aka Jags Only is the leading independent Jaguar specialist and the long list of honors and awards we have received confirms it.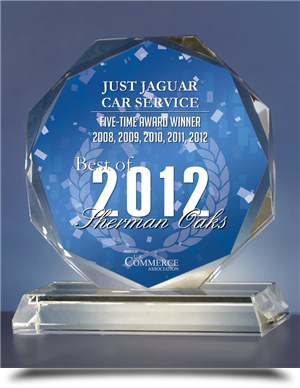 Our Awards Include:
Los Angeles Magazine "Best Auto Repair in Town" 1989
Consumer Business Review "Jaguar Specialists of the Year" 2009
Celebration Media U.S. Talk of the Town Award for Excellence in Customer Satisfaction 2011
U.S. Commerce Association "Best of Sherman Oaks" award in the Auto Repair Category for 2008, 2009, 2010, 2011 and 2012.
Associations
We are Members in Good Standing of:
Automotive Service Council California Chapter 11-Past President
National Federation of Independent Businesses
Toluca Lake Chamber of Commerce
U.S. Chamber of Commerce
Our Staff
Everyone who works for us is highly trained and skilled at their craft. Take a moment and
meet the technicians who will ensure that your vehicle enjoys a long and healthy life.