Our Staff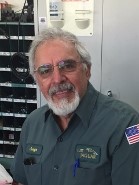 Jorge Aquino – Shop Manager
Jorge is highly skilled and dependable with years of experience and training to perform service, diagnostics and repairs on Jaguar and Land Rover.
He has thirty years experience in both supervisorial and technical positions at Hornburg Jaguar, Land Rover, Toyota of Simi Valley and Land Rover Encino.

In his early career, Jorge attended West Valley Occupational Center to obtain certifications in automotive diagnostics and repairs. He attended Jaguar training school and held Jaguar Master Technician status while working at dealerships. He attended Land Rover training to obtain Associate Land Rover status and attended California Pacific College to keep current on vehicle engine management diagnosis.
Jorge is funny, quick witted and a joy to work with.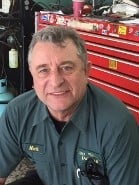 Nicholas Bruce - ASE Master Technician
Nick has forty-five years hands on experience as a Mechanical Engineer, specializing in environmental engineering.
For thirty-five years, he has been with Jaguar Cars, Inc. as a Technician.
He is highly astute in electrical diagnosis and on board computer diagnosis for vehicle condition monitoring and related functions covering emissions and multiplexed systems to current model Jaguar cars.
He is a graduate of London University, 1976, with degrees in Mechanical Engineering and Metallurgy.
Licenses held - Jaguar Master Technician, Range Rover Technician, Honda and Acura Technician, ASE Certification Master Technician and Smog Certified Licensed Technician-State of California.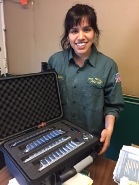 Belen Elizabeth Hernandez - Apprentice

She graduated at the top of her class at Universal Technical Institute and has apprenticed at Just Jaguar since her graduation in 2014. She loves anything mechanical.

She has also become proficient mounting and balancing tires and performing four wheel alignments using John Bean Laser, Non-Rim-Touch, balancing and computer alignment equipment.
Eric Gajewski - Parts Manager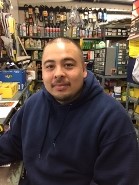 He graduated from Mountain View High School in Mojave, California in 2003.
He received five years of training at Galpin Ford, Van Nuys beginning as a driver delivering parts to various customers throughout Southern California including Just Jaguar.
Then as a warehouse clerk, he stocked shelves, pulled orders and did bin purifications.
He became a parts counterman becoming proficient in looking up parts and prices, creating estimates and orders, all while keeping up with his department inventory.
He is a welcomed addition to our staff as Parts Department Manager.

Dana - Administrative Assistant

The newest team member is a fan of the 1947 Jaguar MK IV.
She has an extensive background in customer service, sales and marketing having been with the Walt Disney Company for over 10 years.
She has donated her time and energy to many charitable organizations. Rescue Train, The Starlight Foundation, Los Angeles Food Bank, Boys and Girls Club of Burbank, Aids Project Los Angeles, and City of Hope are a few of those who have benefited from her efforts.

When not working, she spends her down time biking, wine tasting or hanging out with her three dogs.